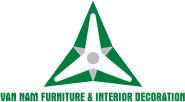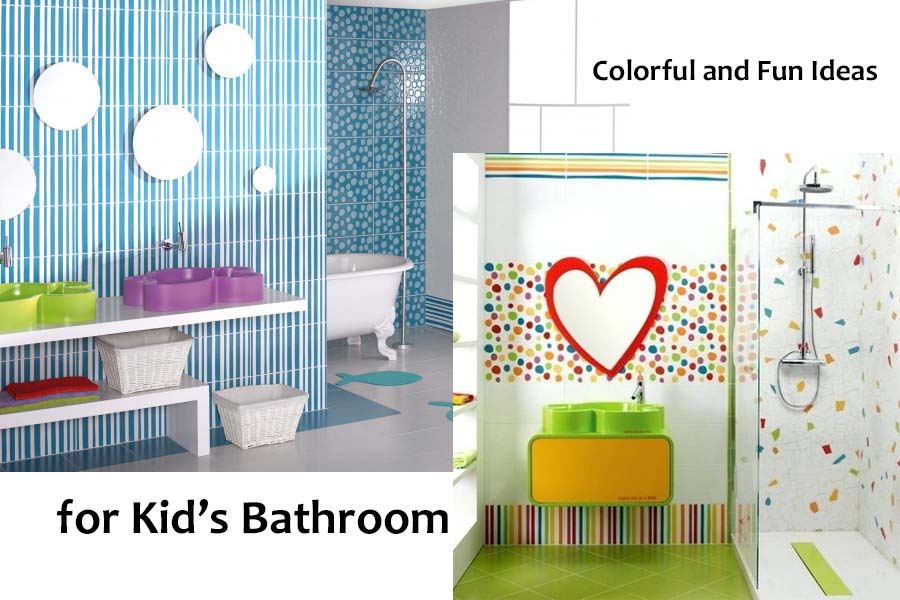 Colorful

and

Fun

Bathroom Ideas for Kids.
Kids Bathroom Ideas - It is important to provide a good bathroom for your kids. You are not only providing a health bathroom, but you also have to make sure that it looks adorable. Somehow, you can remodel your kid's bathroom in your own way.
For kids, the bathroom is not only a place to bath and replace the fragrant clothes but also a place where they can be creative and immerse in their adventures as imagination. So why don't you try to give your kids a happy space in your apartment by decorating the bathroom according to their favorites.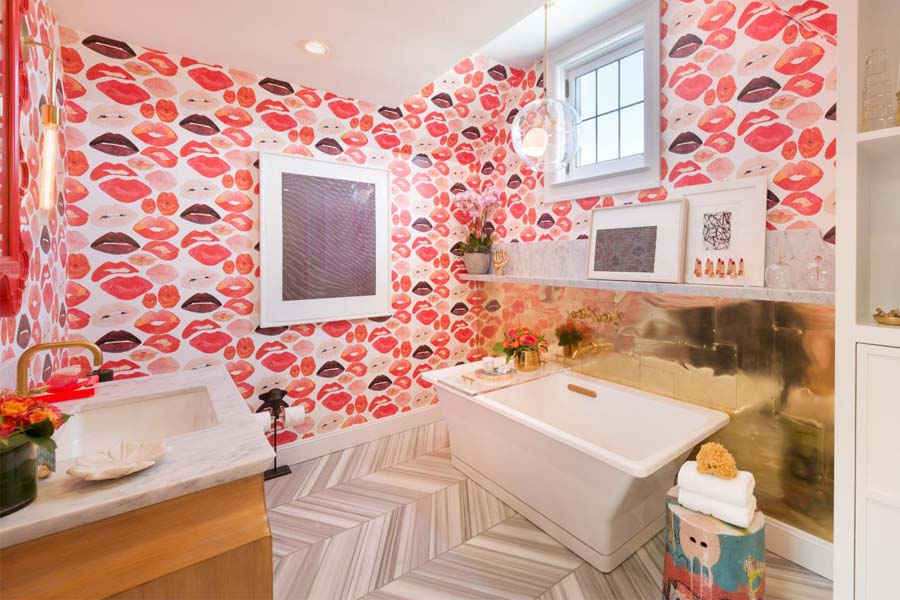 The first thing, you try to find a topic or idea and don't hesitate to let your kids to contribute. This activity will be the most unforgettable moment for them. If your kids already have an awareness of hobbies, styles, and images, they will easily come up with ideas, which is the most enjoy. For babies or kids under 3 years old, you may be the person who shaped the original style for them, but this maybe change gradually over time. Theme will decide what decorations are for bathroom and everything that needs to be followed.
HELLO KITTY THEME.
It is undeniable that kids really like Hello Kitty. Hello Kitty is a cartoon character that looks so cute and adorable. So, you can convert your kid's bathroom into an amazing hello kitty themed bathroom with pink and white accent.
Simply, you can paint the bathroom wall in white and pink accent. Meanwhile, you can add some Hello Kitty images around the bathroom.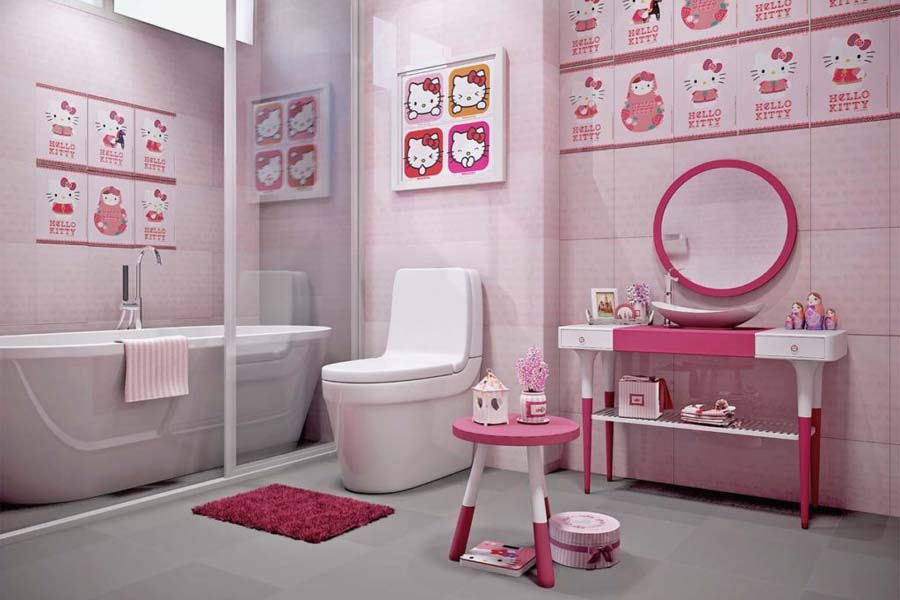 COLORFUL THEME:

Instead of animal images or cartoon characters, kids also love colorful things. The colorful theme looks more great and modern. Don't be afraid to use the bright colors to decorate your kid's bathroom.

Many studies have shown the wall accent with some colors such as red, yellow, blue, and green... have the effect to brainstorm and teach four your "dear kids". You can paint alternating color stripes to create a fun space for bathroom. This combination makes the atmosphere look more alive. Meanwhile, you can add some bathroom items in different colors too.
NAUTICAL THEME:

The kids are always curious and like to explore. So, let's the kids to explore the sea-world in their bathroom? How to bring the sea into bathroom is not difficult.

Nautical themed bathroom uses a blue background and then you just have to draw some sea species on the wall such as turtles, fishes, sea horse, and much more or choose "marine items" such as an octopus trash, a glass of water, a toothbrush with funny sea creatures to finish decorating the bathroom for kids. You can also combine it with other accents like a green bathtub, pink sink, and yellow floor.
ANIMAL THEME:
There are a lot of animal theme kids' bathroom ideas that you can try to apply. Decorate the bathroom with waterproof decal printing animal on the wall as well as turn the bathtime into a useful lesson about wild animals and their features. In order to kids to incarnate in the fantasy hunting, they never forget any interesting knowledge from yout teaches.

If you want to make the atmosphere look harmonious, then you can put a large white bathtub inside the bathroom. Finally, the blue rug can make the nuance look more outstanding and natural.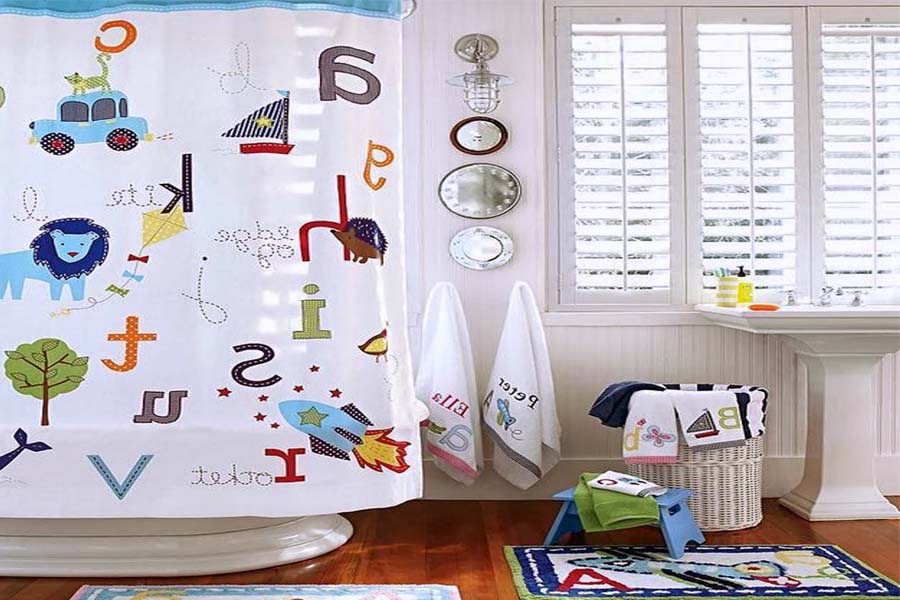 MONKEY'S THEME:

You have to realize that kids really like animal images on their bathroom. Somehow, if you have no idea what animal image to choose, then a monkey can be the best choice.

This monkey themed bathroom really looks adorable with its colorful wallpaper style. You can decorate every corner of the bathroom with monkey images. But, make sure you combine several accents in the bathroom.
YELLOW DUCK:

Kids really love cute things and toys. Simply, if you cannot buy some toys for your kids, you can actually put the toys on the bathroom concept. In this case, let us say that you choose Yellow Duck as the character in which you can put a big yellow duck image on the bathroom wall with a white background. Then, you can complete the bathroom with some items such as bathtub, beautiful sink, and showers...

Source: Collection and Edition.
Van Nam Furniture & Interior Decoration.